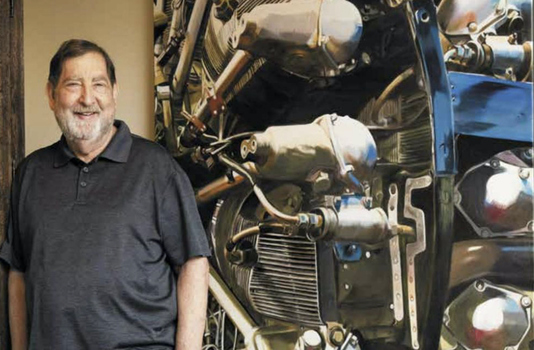 "My paintings have increasingly become an exploration of light in spaces and on surfaces."
Allan Gorman's artworks have been exhibited in numerous museums, such as the Arnot Art Museum, Springfield Museum of Art, Lyman Allyn Art Museum, Albany Museum of Art, and The State Museum of New Jersey; and in commercial galleries, including Anthony Brunelli Fine Arts, Howard Rehs Contemporary, Garvey|Simon NY, Nicole Longnecker Gallery and, CK Contemporary in San Francisco. His work is also included in "LUSTER"–a multi-venue museum exhibition of automobile and motorcycle art, currently touring throughout the USA at institutions like the Daytona Museum of Arts and Sciences, Museum of the Rockies, Deusenberg Museum, Morris Museum of Art, Art Museum of South Texas, and Haggin Museum. A European exhibition—Galeria ArteLibre's "20 Years in 20 x 20"—was shown at the Palacio Bantierra in Zaragoza, MEAM Museum in Barcelona, and Palazzo Einaudi Palace in Chiavasso, Italy. And he has been invited to participate in "Hyp'Art" an ambitious survey of hyperrealism's impact internationally, with a major exhibit planned in Nice France in the Spring of 2025.
The artist is a two-time recipient of The New Jersey State Council on the Arts Fellowship for Painting; resident fellowships at the Vermont Studio Center and ESKFF at Mana Contemporary; Architectural Artist of the Year from ADC's Art Comes Alive!, the Salmagundi Award from the American Artist's Professional League, and the Pioneer of Realism award from the International Guild of Realism. He is one of the 100 Grandmasters of Realist Art as selected by the Salon Des Beaux Arts. Notable press includes articles in The Huffington Post, Manifest's International Arts Annual, American Art Collector, Poets/Artists Magazine, Hyperrealism Magazine, ArtSeen, The Huts Magazine, and dozens of other print and electronic publications.
His work is part of the permanent collections of the Savoy Automobile Museum, Belskie Museum of Art, and the Copelouzos Family Art Museum in Athens, Greece. Gorman's art can also be found in many corporate and private collections.
E-mail for pricing or other info... allan@allangorman.com

"Though some would categorize him as a photo-realist due to his penchant for painting from photographs, Gorman perceives his craft with a different lens. In his view, the artist constructs abstract compositions masquerading as realism, with abstract components becoming more prominent as he progresses in his artistic endeavor."
Hadra Salinas – Aatonau! Art Blog