ORIGINAL ARTWORKS:
Prices for original paintings are calculated by running inch, typically running around $55 per running inch. This equates to $3-5k for the smaller sizes up to $8-15k for some of the larger paintings.
COMMISSIONS:
Occasionally, I will accept a commission for a piece within a genre that suits my artistic persepective and style. Commissions require a 35% deposit before starting, a second installment of 35% before finalization of the finished painting, and the final 30% upon delivery.
REPRODUCTIONS:
As an alternative, archival reproductions are available for most works in a number of options, from 20 x 20 inch prints on metal priced at $750; framed, signed, and authenticated archival rag prints priced around $500 (image size 11 x 11 inches in a 20 x 20 inch frame), and signed, unframed archival rag prints on 17 x 22 archival rag prints at $200 each.
Galleries, decorators, and other intermediaries are offered a professional discount.
To discuss particular works of interest,
please don't hesitate to send a request.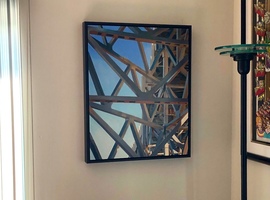 Original framed painting installation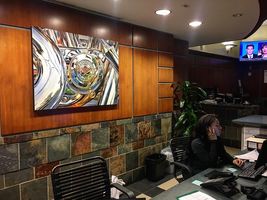 Original framed painting installation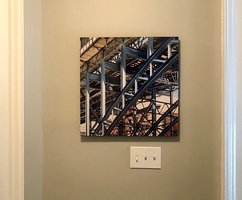 Reproduction print (metal) installed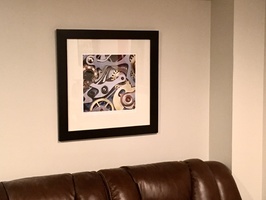 Framed Reproduction print (archival paper) installed